Every manufacturing industry yearns to make wrapped bushings solutions for their problem, and Bushing MFG leads them, for the past few years, Bushing MFG has been serving the industries with its ultimate best-selling solutions.
Bushing MFG manufactures bearings and bushings with exceptional qualities.
Wrapped bushings manufactured at Bushing MFG are self-lubricating and shock-resistant, it has a high working capacity, good tolerance against damage, and above all, are cost-effective.
Our after-sale services have driven potential customers towards us. Our professional team provides up-to-date products for better performance, you can visit our page and contact us for further queries.
Bushing MFG - The Leading Wrapped Bushings Manufacturer in China
As technology progresses, the need for the well-maintained and latest technology is also increasing.
Bushing MFG adheres to the changing trends and manufactures up-to-date products such as wrapped bushings.
These bushings are friction-less, self-lubricating, and high-maintenance bearings.
Bushing MFG uses different materials or alloys to wrap the bushings. Wrapped bushes are suitable for several industries such as construction, manufacturing, food and beverage, hotels, and other electrical industries.
Our professional workers deal with every kind of situation and provide you with the best services. Whether you face installation problems, working, or understanding, Bushing MFG is always by your side.
There is no risk of scams as your investments are safe with us. We are a team of certified professionals and take care of customer services.
Almost 40 countries worldwide have enjoyed our services and are very satisfied with the quality and working of the products.
What would be the use of a manufacturing company without OEM services? Our trained staff provides the customers with OEM services which means that you can customize your product.
Don't hesitate to get in touch with us if you have any more questions. Our customer care team is accessible 24 hours a day, seven days a week, to assist you.
Bushing MFG produces sliding plates, half-bearings, thrush washers, flanged bushes, and cylindrical bushes in various styles and shapes from wrapped bushings. It can also create any personalized form or size to satisfy the customer's requirements.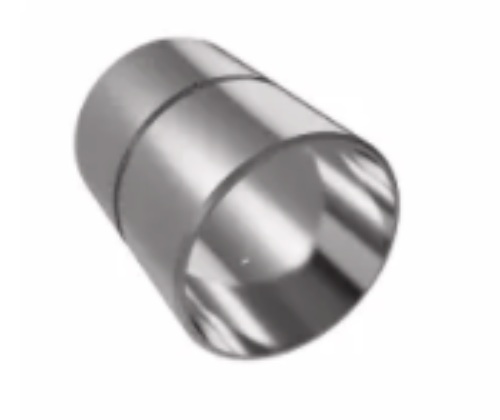 Wrapped split bearings are meant for light-weight and are used in building material shops, manufacturing plant, and construction industries.
This bearing is designed for low weight and has reduced mechanical volume. It is used in manufacturing plants and agriculture machinery repairs shops.
These are standard-size bushings used in the agriculture industry and forest industry.
Steel wrapped bushings are used in automotive engines, gear pumps, shock absorbers, door hinges, seats, printing, woven, tobacco and gymnastic machinery, pneumatic cylinder.
These bushings apply to hotels, garment shops, building material shops, manufacturing industries.
Customized Wrapped Bushings
You can tell us your requirements and have your customized order of wrapped bushings.
Wrapped Bushings – The Ultimate FAQs Guide
Wrapped bushings are adaptable and can be used for a more extended period.
Owing to their tolerance, work, and efficiency, many manufacturing industries use wrapped bushings in their products.
Bushing MFG also manufactures self-lubricating wrapped bushings of different varieties.
Let's dig into the necessary information you need to know about the wrapped bushings.
1. What Is a Wrapped Bushings?
Wrapped bushings manufactured at Bushing MGF have been around for a long time.
Their adaptability and long-term success can be attributed to their simplicity, efficiency, and ability to take up space or protect the shaft.
Wrapped bushings are composed of tin-bronze and have diamond oil sockets drilled into their surface for oil conservation.
Its anti-fatigue, anti-erosion, anti-abrasion, and load capacity are all excellent.
Bronze bushings of metric size and flange type are commonly used in machines with a high load but a low operating velocity, such as agricultural, construction, and engineering machines.
2. Why Do Wrapped Bushings Have Split?
Wrapped bushings have a split in them.
A rectangular blank of metal is cut from the process coil and rolled into a cylinder shape when wrapped bushings are made.
When the two blank edges meet to form the bushing cylinder shape, the split is created.
Over a solid ring structure, split bushings have three significant advantages:
Producing is more cost-effective for the manufacturer.
Purchase prices are lower.
Maintaining a grease-free solution with a self-lubricating benefit.
Let's see how many types of splits do we have.
Types of Split Joints
Split bushing joints are available in two different types and options:
Straight Joint
A typical joint is also known as a straight joint.
A straight seam runs the length of the cylinder in this form of a split.
Affordably priced, adaptable, and widely used in practice.
Even though straight joints are prevalent in the industry, they can cause problems during transit, handling, and assembly because bushings can become entangled.
If the gap is too significant, the chamfer will grow in size, making it challenging to press-fit and perhaps increase scrap rates.

Clinch Butt Joint
A straight-line connection with jigsaw piece incisions makes up the clinch butt joint.
This innovative design has a key-to-lock feature to attach the two halves.
It closely resembles the integrity of a solid ring type while incorporating the cost-effectiveness of a split joint.
Easier to handle for the end-user than a traditional split. Assembly problems are reduced due to the smaller chamfer.
It enables the bushing to function better in high-load or high-performance applications, such as engine bearings, pumps, and so on.
The clinch butt joint can be used on thinner wall bushings to ensure that the cylinder's integrity is not jeopardized during regular press assembly.
Due to the sophisticated design and metal shaping, production problems and tooling costs are more significant. In the majority of cases, they are classified as bespoke or unique parts.
Splits are changing as manufacturing becomes more automated.
Each split has its own set of characteristics that you should take into account based on the bushing's wall thickness and application, as well as cost considerations.
3. What Are Wrapped Bronze Bushings?
Bronze bearings that are wrapped with bronze strips are called wrapped bronze bushings.
This sort of bronze bearing is built of a unique formulation with high specific gravity.
Depending on the customer's needs, we can customize its surface to include spherical or diamond-shaped indentations or oil channels.
It has a hefty load capacity and a long service life. It is less expensive and more compact than standard cast bronze bushings.
Wrapped bronze bushings manufactured at Bushing MFG are commonly found in hoisting machines, construction machines, autos, trucks, machine tools, mineral equipment, and other applications.
A good grade lubricant will reduce friction and wear by separating a bronze bushing from its shaft, whether grease or oil is utilized.
Bushing MFG manufactures self-lubricating Wrapped bronze bushings that have the following benefits:
Unable to cope with polluted environments
At low speeds, it's resistant to shock loads and vibrations.
A high level of corrosion resistance in harsh situations
Moreover, the wrapped bronze bushings apply to agriculture, lifting, forestry, and building machinery.
4. What Are the Features of Wrapped Bronze Bearings?
Wrapped bronze bearings manufactured at Bushing MFG have the following features.
They provide extended service intervals under difficult operating conditions.
Wrapped bronze bearings are suited for situations with high contamination levels.
Diamond-shaped lubricating pockets or a hole pattern are supplied on their running surface.
When the bearing is mounted, you must fill the lubrication pockets with grease. Wrapped bronze bearings are manufactured per ISO 3547.
Suitable bronze alloys are used as base materials for making wrapped bronze bushings.
Wrapped bronze bearings are entirely comprised of CuSn8 phosphor bronze.
CuSn8 is distinguished by its purity, with just a small percentage of contaminants.
Wrapped bronze bearings are made from strips that are wrapped and calibrated after that.
On installation, you must use grease or oil to lubricate wrapped bronze bearings.
A good grade lubricant will reduce friction and wear by producing a film between the plain bearing and the shaft.
We recommend sealing off the bearing in extremely polluted applications. It will protect both the bearing and the lubricant.
5. What Are Wrapped Plain Bushings?
 Plain wrapped bushings absorb and transmit forces between components that move about one another.
They determine the relative positions of the moving components and verify that the movement is accurate.
Plain bearings can meet various requirements.
They can withstand high mechanical stresses to the fullest extent possible while suffering slight wear throughout their service life.
They must also tolerate high sliding speeds and be impervious to bearing environment disturbances.
Wrapped plain bearing bushes manufactured at Bushing MFG are shaped from a level segment of material.
As a result, they have a joint that may be opened when not in use.
After being pressed into the bearing housing, the wrapped bush only has a closed joint and the required dimensional and contouring accuracy.
functions
Plain bearings based on hydrodynamic principles can meet the various requirements reasonably well.
With the help of contemporary mathematical methods, oil-lubricated plain bearings, in particular, may be designed for optimum, reliable performance.
Oil is commonly used to lubricate low-maintenance plain bearings.
Usually, the amount of oil applied during installation is adequate for the entire service life.
Calculating the predicted service life of grease-lubricated plain bearings, on the other hand, is fraught with uncertainty due to the numerous, affecting factors and can only be used as a guide.
Lubrication with oil or grease is not always practicable or permissible. Maintenance-free, dry-running simple bearings are used in situations like these. The calculation of the service life is also not exact enough in this case.
6. What Is the Price of Wrapped Bushings?
The features and qualities of a bearing determine its price. For example, if you are using high-efficiency and high-tolerant bearing, its price will be high.
The more you add the features, the more will be the price.
Moreover, the location also determines the price of wrapped bearings.
You can buy wrapped bearings from Bushing MFG at reasonable prices.
We provide cost-effective and reasonable prices when you order in bulk. This option can help you with your budget.
The standard price of wrapped bearings for a single-piece range from $3-$8.
7. How Can I Maintain Wrapped Bushings?
The bushing material of wrapped bushes requires little maintenance.
You can maintain the wrapped bushings manufactured at Bushing MFG in the following way.
Initial lubrication is required during installation, followed by frequent lubrication with oil or grease.
The diamond pockets are a great place to store lubricant and keep maintenance to a minimum.
Tin bronze alloy and a homogeneous mixture of bronze are used as a bearing material.
The bearing surface has oil holes and strong fatigue strength. It also has a robust load-carrying capacity, corrosion resistance, and wear resistance as storage grease.
By regular check-ups and maintenance, your wrapped bushings will work properly.
Agricultural machinery, construction machinery, and other high-load, low-speed applications are all common uses.
8. What Are the Applications of Wrapped Bushings?
Bushing MFG makes wrapped bushings that apply to all the industrial sectors.
The applications are as follows.
Wrapped bushings are ideal for use in harsh environments where frequent maintenance is not practicable. Agricultural vehicles are a typical application.
Lifting equipment, offshore, and excavators are other applications of the wrapped bushings.
Wrapped bushes are frequently utilized in the construction industry, including excavators, pump trucks, and other vehicles.
In the automotive industry, wrapped bearings are commonly used.
Customers benefit from the low friction, high wear resistance, and remarkable durability of Bushing MFG's wrapped bearings for wipers, convertible tops, interiors, struts, levers, and pedals even in the most demanding settings.
Wrapped bushings are widely employed in port and maritime equipment.
They are utilized in agriculture, forest machinery, and other applications.
Wrapped bushings are widely employed in various industries, including textile machines, beverage filling machines, smelting furnaces, injection molding machines, and so on.
These are also widely used in logistic equipment such as heavy-duty trucks, forklifts, and similar vehicles.
9. What Are the Advantages of Using Wrapped Bearings?
Wrapped bushings manufactured at Bushing MFG offer the following advantages.
Intervals of service are long.
Impurities do not affect it.
Corrosive conditions are not a problem for this product.
Suitable for low-speed impact loads and vibrations
Heat dissipation is excellent.
Fitting and lubrication are simple.
Inner side with high load capacity can be machined
Thermal conductivity is increased.
Dimensions of the overall minimum
Resistant to chemicals
Not only wrapped bushings have advantages.
Our other products, such as polymer bushing, graphite bushing, bimetal bushing, and bronze bushings, also offer the same range of advantages for your applications.
For inquiries, you can visit our page to get an instant quote.
10. In How Many Sizes Wrapped Bushings Are Available?
Wrapped bushings manufactured at Bushing MFG are offered in metric sizes.
They're calibrated and wrapped in strips. These bronze bearings are designed for slow-speed, heavy load applications.
Wrapped bushings are particularly well suited for oscillating motion in the construction, mining, quarrying, agriculture, and automotive industries.
Furthermore, in standard sizes, diamond-shaped lubricating holes are installed on the surface.
These indentations act as lubricant reservoirs, allowing a lubricating layer to form quickly in the initial movement, reducing friction.
The material is ideal for construction and agriculture, where heavy loads and slow movements are standard.
Moreover, you can customize your desired size.
11. What Are Self-Lubricating Wrapped Bushings?
Bushing MFG manufactures wrapped self-lubricating bushings.
Once you lubricate them, there is no need to grease them again and again.
It is because they have pores that release oil underperformance.
Wrapped bronze bushings are exceptionally well suited for applications where re-lubrication is not required due to high contamination levels.
These bushings' sliding surfaces have diamond-shaped pockets that serve as reservoirs for gradually releasing lubricant during operation and must be filled with grease at first.
Wrapped bronze bushings come in a variety of shapes and sizes, including straight and flanged versions.
These wrapped self-lubricated bushings are
Able to cope with polluted environments
At low speeds, it's resistant to shock loads and vibrations.
A high level of corrosion resistance in corrosive environments
Wrapped bronze bushings are ideal for machinery that operates in hazardous conditions.
12. What Is the Tolerance Level of Wrapped Bushings?
To measure the tolerance level of wrapped bushings, first, you need to measure their dimensions.
It is impossible to correctly measure the external and internal dimensions of a wrapped bushing.
A wrapped bushing will not be precisely cylindrical in its free state.
When the split is tightly closed, the bushing will conform to the housing.
As a result, only special gauges and test equipment may be used to check the OD and ID of a wrapped bushing.
However, the wrapped bushings with higher diameters have a high tolerance, and those with smaller diameters have less tolerance.
13. What Are Wrapped Sleeve Bushings?
In wrapped sleeve bushings, diamond or global oil channels are rolled into the metal surface.
 It has a high density, a high load capacity, and is resistant to wear.
The wrapped sleeve bushings are used in lifting equipment, building equipment, and mining equipment, among other things.
They have High-density bronze roll forming or spherical oil pockets. There is an oil hole-specific interior surface to decrease wear and tear and increase usage time. Wrapped sleeve bushings manufactured at Bushing MFG serve a good anti-corrosion function.
14. What Are the Manufacturers of Wrapped Bushings?
The manufacturers of wrapped bushings are spread around the world.
Bushing MFG is the top-notch manufacturing industry in China.
If you are looking for wrapped bushings, there is no other place to go except Bushing MFG.
We are ISO 9001-2015 certified and have satisfied international clients.
Other than wrapped bushings, you can ask for any bushing of your requirement. We'll customize it for you.
For assistance, we can provide you with free samples and videos to face no difficulty in understanding the product.
We manufacture high-quality various kinds of bushings. You can order both in bulk and in small quantities.