From the beginning of 2006, Bushing MFG has offered the world the most outstanding bimetal bearings solutions.
Bimetal bearings lubricate themselves. They have a high propensity for tolerating heavy weights, and due to their wear resistance and high potential, they leave the other bushings behind.
For all of your bimetal bearing needs, Bushing MFG is the best place to go. We have clients from all over the world, and our customers have become long-term clients due to our low prices and effective before and after-sales services, our creative staff, and cutting-edge additions to our product line. You can also order products that are specifically fitted to your business needs.
For further information on placing an order, don't hesitate to contact our customer service professionals.
Bushing MFG - Your Trusted Bimetal Bearings Manufacturer in China
Bushing MFG is the most cost-effective and low-maintenance alternative for friction-free bushings. The oil-free bimetal bearing is available with bronze, brass, copper, and other iron-based materials.
Our R&D team works efficiently to develop new materials and technologies. Bushing MFG's quality control team inspects the products from raw material collection to final packing.
Bushing MFG protects your investment by providing free samples before you complete your purchase, and your time and money are both valuable to us. As a result, you can have your order delivered right to your front door.
Furthermore, we provide OEM services. You are welcome to present us with your design or concept. Our experienced and professional team will create designs that are similar to yours but unique in their own way.
We have supplied high-quality bimetal bearings to over 40 countries. By providing additional options, we make ordering more manageable for you.
Please get in touch with us if you have any additional questions. Our customer support representatives are here to assist you at any time.
Bushing MFG uses bi-metal bearings to make sliding plates, half-bearings, thrush washers, flanged bushes, and cylindrical bushes in various shapes and sizes.
You can also get customized products to satisfy your requirements. Bearing MFG produces a range of products such as wrapped bushings, bronze bushings, graphite bushings, flange bearings, and polymer bushings.
The bimetal bearings offered by Bushing MFG are listed below.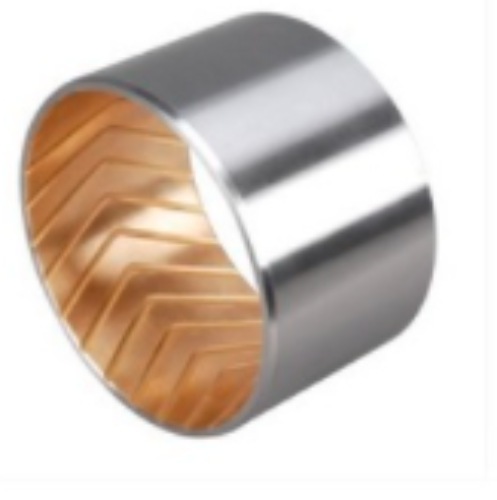 Oilless Bimetal Sliding Bearing
With oil or grease lubrication, this material is suitable for usage at medium speeds and medium loads. It is widely utilized in motor rod ends, construction equipment, and agricultural machine spherical joint bearings.
Sleeve Brass Bimetal Bearing
Sleeve brass bearings gain strength by secondary sintering. They are used in building material shops and manufacturing plants.
Copper Sleeve Bimetal Linear Bearing
Copper Sleeve Bimetal Linear Bearings are high-quality copper sleeve bimetal bearings. They are used in manufacturing companies and plants.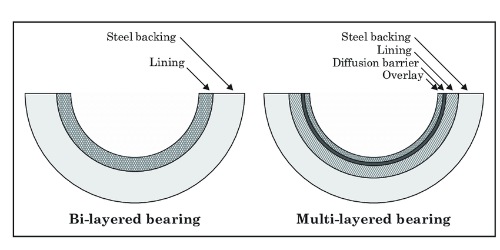 Engine Sliding Bimetal Bearing
This bushing is specially designed for fast-paced working in manufacturing plants.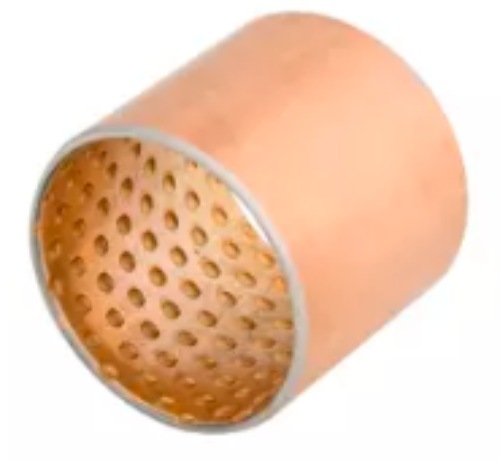 Bimetal plain bearings apply to manufacturing plants, machinery repair shops, and construction works.
Customized Bimetal Bearings
Besides all the products listed above, you can have your own customized order.
Bimetal Bearings – The Ultimate FAQs Guide
Bimetal bearings are great for emergency replacements since they are anti-corrosion.
Bushing MFG manufactures bimetal bearings that are quick to install. They are also perfect for heavy loads and shock-loading conditions.
Let's unravel the information about bi-metal bearings and how they significantly impact the market.
1. What Are Bimetal Bearings?
Bimetal bearings manufactured at Bushing MFG are high-quality bearings.
They have a low carbon steel back as substrate, and the bronze alloy is used on the surface.
After getting the suitable material, the bimetal bearings are passed through high temperatures. The bimetal bearings are then sintered, rolled with copper and steel bimetallic strip coiling.
The rolled strip is suited for various applications, including bushes and thrust washers, and can endure medium speed and substantial impact loads.
The bimetal bearings manufactured at Bushing MFG are suitable for medium usage and have a high impact load under bush and thrust washers.
2. What Is the Application of Bimetal Bearing?
Bimetal bearings have the following applications.
You can use the bimetal bearings in:
Agricultural machinery
For heavy-duty truck applications such as engines and brakes.
After-treatments for automobile exhaust
Engines for heavy-duty work
Trucks that carry a lot of weight
Hydraulic cylinders are a type of hydraulic cylinder.
Industrial lift equipment.
Ovens for both industrial and domestic use
Applications for lifting
Handling by machine
Medical devices
Valves for natural gas and petrochemicals
Pneumatic devices
Textile equipment
For applications where the bearing must be machined after mounting, bimetal bearings can be made with a thicker lead bronze coating.
Bushing MFG can customize the layer's material according to the application's specific requirements.
3. What Is the Material Used in Bimetal Bushing?
In bimetal bearings, you can choose two metal alloys of your desire.
Mainly, metal such as bronze and copper are used for layering the bimetal bushes. A bronze sliding layer is usually wrapped around a two-layered bimetal bearing.
You can layer the bimetal bushing with stainless steel, carbon steel, or bronze.
Heavyweights and stress loading conditions are no match for bimetal bearings. It has a high capacity for carrying loads.
Our anti-corrosion bimetal bearings manufactured at Bushing MFG are very simple to operate.
 Low carbon steel is used as the base material in bimetal bearings. It is also covered with copper or tin plating on the exterior surface.
Customers can also choose high tin aluminum alloy for layers or any suitable copper layer material.
Bushing MFG can do the thickness of the alloy layer and sintering of any thickness according to the client's need. However, the standard thickness is 0.25mm-0.3mm.
Inner wall copper layer material is generally CuSn6Zn6Pb3 or CusN6.5P0.1. (i.e., two kinds of tin bronze and two types of lead bronze.)
Four kinds of copper and lead/bronze alloys can be used for making layers in bimetal bearings.
CuPb24Sn4 (Copper, Lead, and Tin): 
It has a high fatigue strength and bearing capacity.
Impact resistance,
Due to the high lead content in the alloy and high density, it is prone to lead segregation, which reduces the abrasion resistance of the bushing.
It may also reduce the strength of the combination of alloy layer and steel back.
The high-cost copper layer is used in high speed, swing, and rotating wages under bearing conditions.
CuPb10Sn10:
It has good lubrication performance, wear resistance, and corrosion resistance.
Suitable for medium to high speed and has a more significant impact on load-bearing.
The gasket surface pressure is high.
There is the lateral pressure of the sliding bearing, such as the bimetallic bearing shell, the piston pin set, lining, etc.
CuSn6Zn6Pb3 (Copper, Tin, Zinc, and Lead):
This material allows the bearing to work under general load and medium sliding speed, such as turbines, motors, compressors, piston clutches, connecting rod bushings, rocker arm bushings, and so on.

Cusn6.5-0.1 (copper and Tin):
These lead-free bimetallic bearings are used in:
Balance axle bushing
Gasket
Internal combustion engine spindle bushing
Connecting rod bushing,
Rocker arm bushing,
Oil pump side friction plate,
Internal combustion engine bushing of medium and small power,
Train engine bushing, air press bushing, and refrigerator.
Moreover, aluminum alloy has good corrosion resistance and sliding performance and moderate fatigue strength and bearing capacity.
It can be utilized with soft shafts and is frequently used for small and medium-sized internal combustion engines, railway engines, air compressor bearing sleeves, and other applications.
 It is the most suitable substitute for babbitt alloy.
4. What Are the Advantages of Using Bimetal Bearings?
Bimetal bearings offer the following advantages.
Bimetal bearings have a high level of wear resistance.
They are well-suited to medium-speed, medium-load, low-speed, and high-load situations.
Various oil grooves, pockets, and holes can be processed on the friction surface using unique technologies to adapt to diverse lubrication circumstances.
Automotive engines, chassis, motorcycle clutches, gear pump wipers, and lifting equipment have all benefited from our bi-metal bearings.
For further information, we can provide you the detail videos regarding the bimetal bearings at Bushing MFG.
5. What Are Self-Lubricating Bimetal Bearings?
One of the oil-free or self-lubricating bearings is the bimetal bearing.
Bimetal bearings are made of a high-quality low-carbon steel backing with a lead-tin-bronze alloy sintered on the surface.
 It is a bimetal merged with copper and steel after much high-temperature sintering and dense rolling processes.
Bimetal bearings are a new type of lubricating bearing that combines the advantages of metal bearings and self-lubricating bearings.
The weight is supported by the metal base, which is lubricated using a specially developed solid lubricant.
It has a high load-bearing capacity and is impact-resistant.
It has high-temperature resistance and has an excellent self-lubricating ability.
It's especially well-suited to situations where lubrication and formation of an oil film are problematic, such as oversized loads, low speeds, reciprocation, or swing.
It also has resistance against water erosion and other acid solutions.
6. What Is Wear Resistance of Bimetal Bearings?
The advantage of bimetal bearings is their high wear resistance.
 It's especially well-suited to medium and low-speed applications.
Grooves, oil holes, and multiple oils can be created on the friction surface using a unique method to adapt to diverse lubrication conditions.
Automobile engines, chassis, motorbike clutches, gear pumps, cleaning, and elevator equipment are only a few of the applications of bimetal bearings.
Metal substrates are loaded with solid lubricants in lubricated bimetal bearings.
Bimetal bearings have high wear resistance. It means that they cannot be damaged easily.
The high-temperature resistance, and self-lubricating properties, among other things.
Due to the wear resistance, bimetal bearings are particularly well suited to large loads and low speeds.
They are also suitable for reciprocating or swinging motions, such as lubrication and oil film formation.
Moreover, they act well against acids and corrosion.
7. What Are the Various Sizes of Bimetal Bearings?
Bushing MFG manufactures bimetal bearings in several sizes and materials, including metal, plastic composites, and a mix of the two.
Some applications necessitate oversized bearings, whereas others require small bushings.
We make all of the sizes you require, taking into account shifting trends.
Bushings do not exceed several inches in length; the standard size ranges from 0.8 to 2-4 inches.
Our self-lubricating bimetal bearings are available in metric standard sizes.
Our customers regularly request this type of product with a quick lead time. The vast majority of our in-stock items can be shipped on the same day.
Bimetal self-lubricating metric bushes are available upon request.
8. Can I Get Customized Bimetal Bearings?
Bimetal Bearing Bushes are customer-specified products with high-performance and environmentally favorable dual metal bearings.
We can modify bimetal bearings to meet your specific needs.
Bushing MFG is a fast-paced manufacturer of self-lubricated bearings of all varieties.
All of the items are highly innovative and made of high-quality materials.
For many years, Bushing MFD has been the best maker of bimetal bushings. We have experienced bushing manufacturers who can provide you with the highest quality material.
You must share the design, quality, material, and size of your bimetal bushing with Bushing MFG, and you will receive a customized order within a week.
9. How Can I Find an Authentic Bimetal Bearing Manufacturer?
Due to the strong demand for bimetal bearings, there are many manufacturers.
Bimetal bearings are a watershed moment in the industry because of their remarkable features and advantages.
Before you go out and get your bimetal bushings, make sure to look over the following list.
Check to see if the maker of your bi-metal bushings is SGS certified and has worldwide experience.
Make sure you're dealing with a legitimate manufacturer.
Check to see if your bimetal bearings is original.
Inquire about the company you're visiting with the locals.
Check the bimetal bush for seals or a product code to ensure it is not a fake.
You should personally visit the job site to ensure that you are investing your money wisely.
Bushing MFG is a leading maker of bimetal bushings in China.
Bushing MFG has a considerable production capability for bimetal bearings. In a single day, we may make thousands of items.
We have an automated manufacturing method, so you will always have enough bimetal bearings even during peak season.
Furthermore, we can provide you with free bimetal bushing samples so that you may check the quality before placing an order.
You will also receive images and videos of each product.
10. What Is the Cost of Bimetal Bearing?
The cost of a bimetal bearing is determined by where you get it.
It also depends on the standards and features you provide in them.
We offer great discount deals if you buy the bimetal bearings in bulk.
The cost per piece is only 1-2 $ while the share price of the bimetal bearings is recorded between 354 to 359 Euros.
11. What Is the Manufacturing Process of Bimetal Bearing?
The steps in the procedure of making bimetal bearing are as follows:
The bimetallic bearing blank of copper steel is produced by evenly spreading bronze alloyed powder on the surface of a steel plate for being sintered.
The blank material is cut down from the copper-steel bimetallic bearing according to the size of the bimetallic bearing.
The blank material is curled into a round sleeve pipe.
A regulating sleeve and a core rod squeeze and press the inner and outer surfaces of the sleeve pipe.
It regulates the sizes of the inner hole and the excircle of the sleeve pipe.
The sleeve pipe is cut and processed to meet the requirements of the bimetallic bearing products.
The inspecting process is completed, and the bimetal bearing is passed on for packaging.
Bushing MFG manufactures the bimetal bushes with the latest automatic technology.
You can get your order asap because of our automated system and efficient working of team members.
12. What Are the Various Types of Bimetal Bearings?
Bimetal bearings have three main types.
These types include:
Flange bushes
Flange bearings, also known as flange bushings, are bronze sintered, oil-impregnated bushings with a load-bearing flange.
Flange bushings are utilized at lower speeds and with lighter stresses since the mating shaft can still travel freely within the bushing.
Flange bearings contain a flange on one end that acts as a load-bearing surface for axial loads, similar to cylindrical sleeve bearings.
Agriculture, aerospace, automobile applications, and appliances, machine tools, and hydraulics all employ them.
These bushes allow the shaft assembly to glide within the bearing freely.
Sizes of flange bearings are available in both metric and imperial measurements.
It doesn't need to be greased or oiled regularly.
Other components can use the flange as a load-bearing surface.

Thrust Washers
Flat washers that sit between a revolving surface and a fixed component are known as thrust washers.
They restrict movement along a shaft by supporting the axial load or side to side motion.
The thrust washer serves as a support surface for the bearing.
Axle assemblies, motors, transmissions, pumps, power take-offs, and winches are high-wear applications.
Almost every application necessitates the use of a wear surface.
The application determines the material of the thrust washer.
Several factors influence the material selection, including speed, load, and temperature.
Plastic, brass, bronze, stainless steel, graphite, and other materials make thrust washers. Low and high carbon steel is used to make the bulk of thrust washers.
Carbon steel can be case hardened or hardened all the way through.
Whatever your application, Bushing MFG will work with you to determine the best cost-effective material and manufacturing procedure to meet your needs and those of your customers.

Strip Bushings
Strip bushings and adapters are combined to create accurate cuts for electrical cable preparation. Using bushings and adapters instead of blades is a safer option.
With these stripping bushings, you may cleanly and safely prepare electrical cable.
They can assist in achieving exact cutbacks and are a safer alternative to blades.
Bushing MFG keeps pace with the moving technology and provides you with updated products.
You will find all types of bearing and other parts as per your needs.
We are professionals and make sure to fulfill the requirements of our clients. Contact directly at Bushing MFG to get an instant quote.
13. What Is the Function of Bimetal Bearings?
Bimetal bearings have three main functions.
To Reduce Friction
The hindrance to motion between two objects that are in contact is called friction.
For the objects to move smoothly, friction is needed to be removed.
There are two types of friction, rolling and sliding friction. Since bearings also roll and slide, they also need to be free of friction.
Some bearings are made to handle rolling friction, and some are made to take sliding friction. Bimetal bearing, on the other hand, handles both types of frictions.
Although bearings are designed to reduce frictions, they cannot eliminate them.
For this purpose, bearings need lubrication.
Bimetal bearings produced at Bushing MFG are self-lubricating and reduce friction quickly.
Carry Loads
In addition, to reduce friction, a bearing must be able to carry loads.
Loads are placed on the bearings by the shaft or other moving parts. They can also be axial and radial.
Bimetal bearing successfully carries the load of the shaft and other moving elements within the machine.

Position Elements
Another function of the bimetal bearing is to position a moving element such as a shaft.
To do this, the bimetal bearing is designed to resist movements in one or more directions.
The bimetal bearings only allow the movement in the right direction.
In some cases, the consequences of shaft movement other than rotation can be severe, and this movement can badly damage the machine.
Wear resistance is a significant feature in bimetal bushings, even though their uses differ widely.
Contact Bushing MFG right now if you have any questions or would like more information about bimetal bearings!