Bushing MFG burns the midnight oil to provide perfect sintered bushings solutions to the manufacturing and construction industries.
Bushing MFG manufactures self-lubricating sintered bushings. They don't get any external lubrication, they have an ideal tolerance to load and are easily installable, we also provide cutting-edge products and works hard to improve its efficacy.
More than ten R&D engineers work together to create precisely what you require. Our knowledgeable staff also offers free samples and low-cost bulk orders.
We enjoy an international reputation because our products have been purchased in Europe and America, contact our customer service representatives for further information about order placement and other specifics.
Bushing MFG – Your Trusted Manufacturer of Sintered Bushings
Bushing MFG's automated technology produces high-precision, high-resistance, and heavy-load-carrying bushings, manufacturing high-quality bearings is not as simple as it may appear. Many sectors have failed to produce exact products, but Bushing MFG has outperformed them all.
Bushing MFG has high-precision machinery that produces high-quality products.
Different alloys are used to make sintered bushings. For improved performance, these bearings are stacked with multiple bronze and metal combinations.
Bushing MFG is a global manufacturing firm. Our expert staff goes to great lengths to ensure that you receive high-quality products.
Our broad assortment includes self-lubricating bearings, metal-polymer bearings, pom bearings, elastomeric bearings, pipeline bearings, bi-metallic bearings, and more.
We encourage our clients to tell us about their needs and requirements to provide them with the right product, Moreover, your investment doesn't go to waste with us. We take every step to keep up with privacy and security.
With the help of our OEM service, you can alter or personalize your product. We will make delicate but unique designs to fulfill your requirements.
Take the time to contact Bushing MFG for more information about our sintered self-lubricating bearings, as well as all of our other bearing types.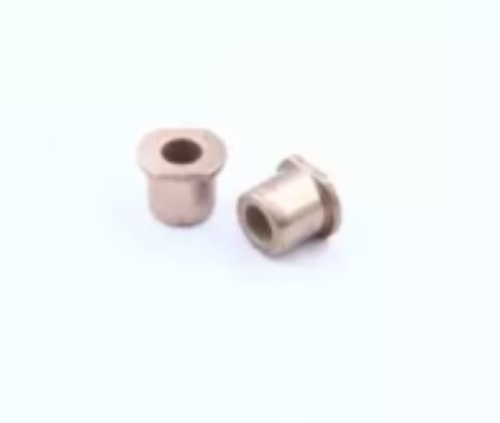 Sintered flange bushing is used in food & beverage shops, auto, truck, motor, engine, car, electrical, and other construction industries.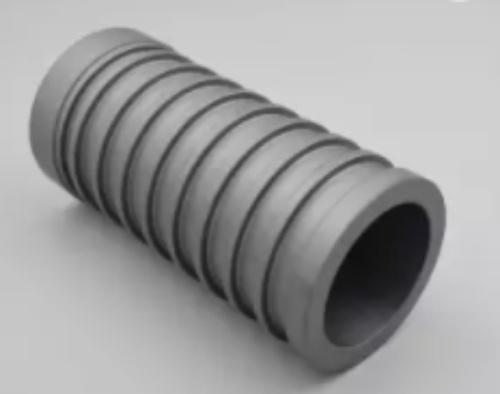 They have high strength over high temperatures and excellent thermal shock resistance. It is used in industrial ceramics applications.
This bushing applies to Fan, household appliances, electric tools, textiles machinery, chemical machinery and automobiles, and official business machines.
Sintered Graphite Bushing
Self-lubricated sintered graphite bushings are used in hotels, garment shops, and building material shops.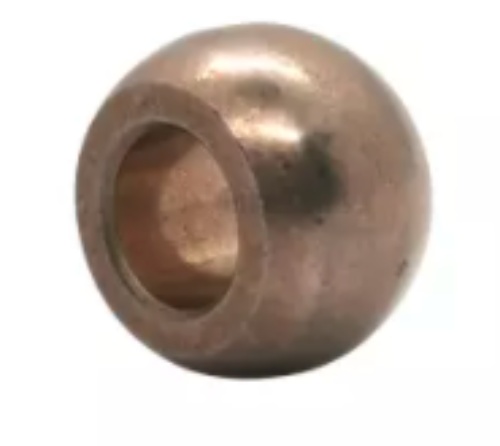 It is made of bronze or iron steel powdered material. It is applied in auto, truck, motor, engine, car, electrical fan, juicer, mixer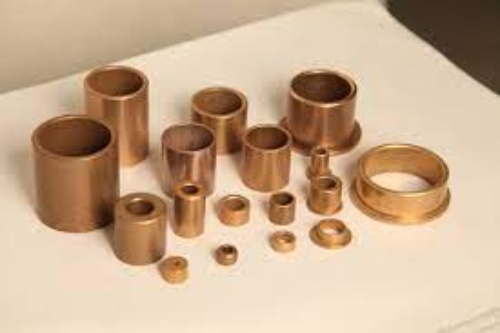 Customized Sintered Bushings
You can customize your own sintered bushings. Just tell us your requirements and we'll provide you with the best solutions.
Sintered Bushings – The Ultimate FAQs Guide
Sintered bushings offer excellent tolerance against a heavyweight, corrosion, and other weather conditions.
Due to their easy installation and high efficiency, their demand is increasing.
Bushing MFG manufactures sintered bushings that have taken over the manufacturing and construction industries for quite a long time.
This article will unravel the necessary information about the sintered bushings.
1. What Are Sintered Bushings?
Sintered bushings are mechanical components that allow two system pieces to move independently without being influenced by vibration.
They reduce system damage by lowering friction between rotating shafts and stationary support elements.
Sintered bushings at Bushing MFG are typically cylindrical. They are certain flexible materials enclosed within a metallic casing.
An internal crush tube is also present to protect sintered bushings from crushing.
Bushings can be made out of a wide variety of designs and materials. Sintering is one of the most prevalent methods for making bushings nowadays.
Sintering is the process of shaping and compacting materials such as powder metals, ceramics, polymers, and others into parts and components using heat or pressure.
Bushings made from this technology are becoming popular due to the features and benefits they provide.
Sintered bushings are frequently made by pressing a metal or ceramic particles into shape and then curing them at high temperatures.
Bushing MFG manufactures sintered bushings that have the potential to be extremely useful in high-speed activities.
You can also use them in applications with limited space and variable loads.
Sintered bushings can be used to maximize the capabilities of systems used in outdoor and industrial situations.
2. What Are the Advantages of Using Sintered Bushings?
There are several benefits of choosing self-lubricating sintered bearings manufactured at Bushings MFG.
It is vital to keep the advantages in mind to make the best bearing choice for your application.
The presence of lubrication reduces the damage risk, making these bearings more dependable than many others.
They are also cost-effective due to the low level of maintenance required.
Self-lubricated bearings outperform the competition in terms of performance.
They can perform well under enormous loads and at rapid speeds.
The storing capability of the porous substance from which sintered bearings are formed is one of their advantages over ordinary plain bearings.
In these pores, a lubricant reservoir accumulates, which, under ideal conditions, generates a permanent lubricating coating on the sliding surface and allows lubricant to circulate throughout the bearing.
Bushing MFG has an essential selection of sintered self-lubricating bushings.
Let us know if you need a sintered bearing created and manufactured for a specific application or project.
Our professionals will work on designing a selection of bearings to meet your needs.
We use only the best materials to provide maximum value, durability, and longevity.
3. Is Sintered Bearing Self-Lubricating?
Yes, sintered bushings manufactured at Bushing MFG are self-lubricating.
A self-lubricating sintered bearing is a metallic component impregnated in lubrication oil.
It has a high porosity which is 25% by volume. The oil in the pores keeps the bearing and shaft lubricated at all times. Hence, the system does not require any additional lubricant.
This form of the sintered bushing may work under hydrodynamic conditions because of its self-lubrication.
The self-lubricating feature of the sintered bearing manufactured at Bushing MFG has an extremely low friction coefficient.
When compared to other types of dry sintered bushes, self-lubricating sintered bushings have the following advantages:
The presence of oil minimizes the chance of seizure and allows the bearing to operate for thousands of hours without wearing out.
There is no need for lubricants, and no maintenance is required.
Working pressures of up to 10 MPa and speeds of up to 8 m/s are possible.
The maximum operating PV is in the 10 MP am/s range. It can exceed under exceptional circumstances.
The dimensional precision is good, and the noise level is deficient.
Bushing MFG Manufactures self-lubricating sintered bushings and provides customized solutions to its customers.
You can customize your material choice, oil, and tolerance levels. Our team of professionals will guide you throughout.
4. What Are Water-Lubricating Sintered Bushings?
Water-lubricated bearings have been used in shipbuilding, hydropower, and other industries for many years.
Their benefits include
Long serviceable life
Low coefficient of friction
Shaft sleeve longevity
Good abrasion resistance
Low maintenance requirements
Unit simplicity
No pollution risks
And low cost.
A well-designed hydrodynamic water-lubricated sintered bush can perform well in the conditions of typical loads and speeds observed in practical applications.
5. What Are the Specifications of Sintered Bearings?
Sintered bushings manufactured at Bushing MFG have a lot of specifications based on their structure and working.
The specifications of the sintered bushing are as follows.
High Speed and No Maintenance
Sintered bronze bearings are self-lubricating and require little maintenance.
Sintered bronze bearings are frequently filled with oil and are constructed of porous bronze or iron.
These sintered bronze bearings are perfect for rotating applications due to their high allowed sliding velocities.
Manufacturing Material
The majority of sintered bronze bearings are manufactured of SINT A51 or a similar substance.
These substances are saturated with mineral oil to the tune of 18% to 20%.
THN may also provide MoS2 bearings made of sintered iron or bronze.
When bearings are being machined, always ask for directions.
Lubrication
Oil is used in the majority of sintered bronze bearings.
When storing and installing sintered bronze bearings, avoid allowing them to come into touch with absorbent materials that could absorb the oil.
Under typical situations, further lubrication is not required.
6. Who Is the Best Sintered Bushing Manufacturer?
You can find a lot of manufacturers around you, but none of them can beat the quality and performance of Bushing MFG.
Bushing MFG is a manufacturing company that makes sintered bushings of your choice.
These bearings are generally available in a variety of conventional sizes and solid or hollow cylinders that must be machined to the required dimensions.
We can also make customized bearings to the specifications of our customers.
You can choose the material and oil to be used, as well as the shape, tolerance, and assembly process, when self-lubricating bearings are custom built.
Bushing MFG takes pride in offering a wide range of professionally manufactured bearings to the market.
Send us an email or give us a call as soon as possible.
7. What Is the Price of Sintered Bushings?
The price of Sintered bushes varies across the world. It also depends upon which features do you want to add to your sintered bushings.
We at Bushing MFG develop and test new special lubricants regularly to assist decrease costs by extending service lifetimes and reducing wear.
Our professionals also work hard to improve the performance, sustainability, and efficiency of our lubricants.
You can get a single piece of sintered bearing for no less than a dollar. However, when you order in bulk, the price may differ.
8. What Are the Applications of the Sintered Bushings?
Sintered bushings manufactured at Bushing MFG are commonly used in the following applications:
Starter motors, Radiator, Fans, fuel pumps
Brakes, steering transmissions, shock absorbers, wipers
Automotive and mechanical equipment
Electric motors and gearboxes
Washing machines, juicing machines, air conditioners, coffee makers, vacuum cleaners, lawnmowers, and other household items
Carpentry machinery, assembly line equipment, automation equipment, sewing machines, farm equipment, bottling equipment, and other industrial equipment.
Garage doors, motorized awnings and shutters, sliding windows, and other home comfort and convenience items
For better understanding, we can also provide free videos.
9. What Should I Consider While Buying Sintered Bushings?
Before you buy your sintered bushings, you must go through the following points.
Check the manufacturer
Talk to the previous buyers
Look for the international reputation
Check how they behave with their customers
Visit their working site
Check their website and see if they are responsive or not.
Ask for the sample and specifications before buying your sintered bushings.
We at Bushing MFG are available 24/7 for customer service. You can ask for any query. We'll make sure to guide you.
10. How Can I Run My Sintered Bushings Business?
To run your own sintered bushings manufacturing business, you should
Study in detail the features, advantages, and other concerning information about the sintered bushings.
It will help you understand the product.
Next, you should study and talk to different manufacturers.
Invest in a trusted manufacturing company for buying parts and machines.
Start with one manufacturing machine and increase gradually.
For any help or assistance, Bushing MFG is always by your side.
11. What Are Sintered Bronze Bushings?
Bronze exists in a variety of alloys and compositions. It is a versatile and widely used material for sintered bushings.
Unlike brass bushings, softer and more easily deformed, bronze sleeve bushings or bronze bearings are stiff and robust.
Bronze powders produce the best-sintered course on the market. The composition is solid, pure, and the metal is primarily designed to consume heat quickly.
These oil impregnated sintered bushings work efficiently. They disperse thermal loads, handle high rotational speeds, and outperform their closest competitors.
Sintered bronze bushings are essential in a variety of applications. They require minimum maintenance and are cost-effective.
Sintered bronze orientations are formed like a plain bushing and do not have any moving balls or separate rings spinning around a pole.
12. How Do Sintered Bronze Bushings Work?
Sintered bushings get their name from the process of making them, which is known as sintering.
At Bushing MFG, the sintered bushings work in the following way.
Metallic or ceramic powder is pressed into shape and then cured at a high temperature in this procedure.
It can result in a coarse-pored component depending on the technique and material.
The success of sintered bushings is due to this pore structure because the lubricating oil is impregnated into the sintered bushings.
At room temperature, the viscosity is chosen so that most of the oil remains in the pores.
When the bushing heats up during operation, for example, owing to friction, the lubricating oil escapes from the pores and spreads throughout the bearing.
A lubricating wedge is formed at more incredible speeds, finally disconnecting the bearing from the contact surface and protecting it from wear.
The self-lubricating action is dependent on the spread of lubricating oil in the bearing point, and it only occurs as frictional heat increases.
Sintered bushings are best suited to high-frequency or otherwise fast plain bearing applications. Other types of plain bearings are better for slower or more erratic intermittent applications.
14. What Is the Life Span of the Sintered Bushings?
The lubrication you use impacts directly how long your bearing lasts and how well it performs in its application.
The bearing material must be compatible with the lubricant. That's why Bushing MFG uses high-quality materials.
It's critical to select your lubricant depending on viscosity, plastic compatibility, temperature behavior, and start-up wear.
Sintered or self-lubricating bearings are utilized in a wide range of applications, including electric motors for automobiles, fans and culinary equipment, power tools, and various household appliances.
Compared to other bearing types, one of the primary advantages of these bearings is that they have a long service life and possibly cost the least in terms of ongoing maintenance.
They can also withstand enormous loads and extreme temperatures without breaking down or displaying signs of wear.
The sintered bearing may also be suitable for your application if you require a long-lasting bearing.
Hence, with suitable material and reasonable maintenance, you can enhance the lifespan of your sintered bearings.
15. What Is the Difference between Sintered Bushings and Polymer Bushings?
Under normal conditions, both types of slide bushings are equally suited for many applications.
However, the technology and performance aspects of sintered bushings and polymer bushings differ significantly.
Sintered Bushings
Sintered bushings are distinguished by their porous design, which holds lubrication.
The oil spills out if the viscosity decreases owing to friction as operation temperatures rise.
 A lubricating wedge forms at higher speeds, lowering the bushing's friction.
They perform the following functions.
Lubrication reduces friction coefficients and allows for faster speeds.
A lack of lubrication impacts linear and pivoting movements.
Oil reduces medium resistance and temperature stability.
Edge loads and effects are a concern, so you must take reasonable care.


Polymer Bushings
The solid lubricants and reinforcing components in the homogenous, consistent structure operate without the need for lubrication.
It means that, regardless of the type of movement, the solid lubricants included in the material are always available.
 Over the entire product life cycle, excellent coefficients of friction and wear are provided.
Some features of polymer bushings are as under.
There is no need for further lubrication.
Cost-effective
You can determine the service life of a product online.
Regardless of motion type, long service life, and low coefficients of friction
Resistant to corrosion
Chemical and temperature resistance is excellent.
Compliant with RoHS
Lightweight
Dirt-resistant.
Vibration absorption
Allows low-cost "soft" shafts to be used
16. What Are Steel and Metal Sintered Bushes?
Bushing MFG produces a variety of sintered bushings such as metal and steel sintered bushings.
Their specifications and features are as follows.
Sintered Steel Bushes
Steel sintered bushings offer a high load capacity and excellent fatigue resistance at high temperatures.
It makes them ideal for hard-working conditions and high specific loads with oscillating and low-frequency motion.
They are applied in
Agricultural Machinery
Heavy-duty truck applications such as engines and brakes.
After-treatments for automobile exhaust
Engines for Heavy-Duty Work
Trucks that carry a lot of weight
Hydraulic Cylinders are a type of hydraulic cylinder.
Industrial lift equipment.
Ovens for both industrial and domestic use
Applications for Lifting
Handling by Machine
Medical Devices
Valves for natural gas and petrochemicals