The tapered roller bearing is specifically designed, to handle radial and axial loads on the rotating shafts. It is also very useful for machine tools. Tapered roller bearings come in a wide range of shapes and sizes, namely, single row, double row, and four row bearing. They come in both inch and metric sizes.  These are made of high-carbon chrome steel. Tapered roller bearings feature a cup and cone assembly. The cup is made up of an outer ring and the cone assembly comprises an inner ring, roller, and cage. The main applications of heavy duty tapered roller bearings are uplifting equipment, gearboxes, rolling mills, mining machinery, etc.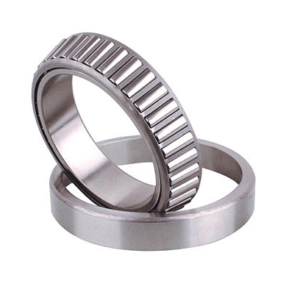 Tapered Roller Bearing Metric Series:
| | | | | | | | | | | | |
| --- | --- | --- | --- | --- | --- | --- | --- | --- | --- | --- | --- |
| 30205 | 30206 | 30208 | 32005x | 32006x | 30204 | 30207 | 32007 | 30209 | 32008 | 30212 | 32212 |
| 30202 | 32004x | 32213 | 32012x | 30210 | 32013x | 32014x | 32024x | 32022x | 32015x | 32017x | 33205 |
What You Want to Know about Tapered Roller Bearing
Bushing MFG is a roller bearing manufacturer since 2006 in China, we are a reliable supplier of high-quality roller bearing products with competitive prices, overall million pieces standard sizes stock for directly buying, and a rich experience for designing your special need.
What is a tapered roller bearing?
A tapered roller bearing is a customizable bearing that can be adjusted according to your speed, load, temperature, and application requirements. The structure of a tapered roller bearing accommodates heavy combined loads while reducing friction during an operation. A tapered roller bearing features an inner and outer raceway, with tapered rollers between them. This enables them to meet at a common axis of the bearing. Unlike other bearings, tapered roller bearings can handle both radial and axial loads. Not only this, they can carry large amounts of load in either direction. Tapered roller bearing application is in agriculture, mining, propellers, engines, and construction.
However, in that case, single row rolling bearings are limited because they can only take high axial loads from one direction. But if you adjust it against a second tapered roller bearing, it will counteract the axial load. This allows the bearing to support a high load from multiple directions. Pairing tapered roller bearings are very useful and are commonly used in car wheels because they can handle their high radial and axial forces.
What are tapered roller bearings used for?
The main uses of tapered roller bearings are as follows.
It is used for many industrial purposes.
Guides use this when they have to undergo extreme loads
Commonly used in applications with concise radial load and high rotational speed, such as car wheels.
Tapered roller bearings are very handy for agriculture purposes, construction purposes, mining equipment, machinery, and propeller fans.
Its main industrial uses include paper mill factories, cement plants, and many oil companies as well.
How do tapered roller bearings work?
A tapered roller bearing consists of two main parts. First is the inner ring, which can be separated from the roller. And the cone assembly can be removed and attached to the outer ring. Generally, the inner ring, tapered rollers, and cage that form the conical rollers are all one part.
The main role of a tapered roller bearing is to handle angular misalignment of the inner ring from the outer ring. However, these bearings must be given minimum load carrying tasks as compared to other bearings. Especially high-speed applications that can damage the space between the roller and raceway.
Types of tapered roller bearings:
Single row tapered roller bearing
These rollers are specially designed to provide a smooth user experience, because of their roller action and low frictional operation. These bearings support combined loads and are very durable.
Matched tapered roller bearing
This tapered roller bearing has a diverse range of designs including face-to-face, back-to-back combined arrangements. This enables it to accommodate axial loads in both directions, capacity to carry loads and perform with stiffness.
Dual tapered roller bearing
The dual tapered roller bearing consists of two cones and double cups. This type of bearing ensures effective separation. This can support axial loads in both directions and heavy radial loads as well. These are commonly used in gearboxes, lifting equipment, mills, and mining machinery.
Four rows tapered roller bearing
This four-cup design provides moderate load distribution, on all four rows of rollers and accommodates combined loads of low to moderate speed. This is specifically used in work roll operations.
How to measure tapered roller bearings?
Tapered roller bearings are measured in three ways. By the inside diameter, outside diameter, and width. It is crucial to measure these bearings in this order respectively. Inside diameter x outside diameter x width. Another thing to note when measuring is what clearance you require. There are two main clearances. Namely, normal clearance with no suffix and C3, which is greater than normal suffix.
If you want to purchase these bearings, do visit our website Bushing MFG. You can buy tapered roller bearings of all categories. Our website is budget-friendly and also has cheap tapered roller bearings so that anyone can buy it. For more information you want to know about tapered roller bearings, Feel free to contact our sales team today for the updated catalogue PDF or size chart, We will reply within 12 hours.