Roller bearing also called rolling element bearing, is very similar to ball bearings because even these are designed to carry a load without causing friction. However, a roller bearing transmits higher loads than ball bearings, using cylindrical rollers rather than balls to prevent its moving parts from separating. The roller bearings have double rows of rolling elements. These bearings are used in cargos, heavy machinery, automobile industries, etc.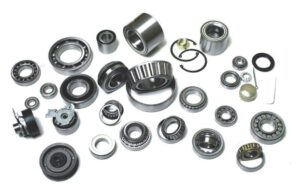 Roller Bearing Things To Know
Different roller bearing designs are suited for different uses and are manufactured in many sizes that classify them according to the code or their geometric dimension – diameter. A basic division is between unshielded bearings and sealed, shielded, or retainer-type bearings, which prevent infiltration of foreign matter into spaces between shafts and races. for more information about roller bearings please keep reading.
What is a Roller bearing?
A roller bearing uses a cylindrical roller to maintain the separation between moving parts of the bearing. These bearings are very versatile and contain single or multiple rows of rolling elements. These bearings have a barrel-shaped roller between the inner ring, which consists of two races, and the outer ring which has one spherical raceway. Multiple row roller bearings can support radial load capacities significantly. Roller bearings support both radial and axial loads by reducing friction when used with different roller shapes. Roller bearings can carry heavier loads than ball bearings, but their applications cannot function at high speeds, because they are limited to low-speed operations.
 A good thing about these bearings is that they require a small amount of lubricant because they do not produce friction or wear out. Another pro fact about roller bearings is that they are mass-produced and readily available, making them cost-effective. Roller bearings are produced and purchased at standard sizes. They do not require any customization. A roller bearing company that produces large-size bearings is specifically designed to each user's needs and is very costly. A bearing is required to keep the distance between rolling elements and avoid angular contact.
Types of roller bearing and its applications
There are a wide variety of roller bearing types available on the market, and each type has its specific uses. They are used in many applications which include, cargo systems, engines, agricultural industry, aerospace, automobile factory, heavy-duty equipment, medical equipment, and powerhouses.
Cylindrical roller bearing
Starting with cylindrical roller bearing, these bearings use rollers that are longer than their diameter and are specifically known to carry higher loads than ball bearings. The main advantage is that this bearing can support heavy loads and it functions in high-speed applications as well. 
Spherical roller bearing
The second type is a spherical roller bearing. These are known to carry heavy loads even in situations like misalignment and shaft deflection. This type of roller bearing can be designed with cylindrical or tapered shafts for mounting with or without any support. Another advantage of this bearing is that it can handle axial loading in every direction and heavy shock loads as well. These roller bearing dimensions range from twenty millimeters to nine hundred millimeters.
Needle roller bearing
The third type of bearing is needle roller bearing. This one is unique in its way because it is thinner than other bearings and can be used with or without inner rings. These needle roller bearings play a vital role in dealing with restricted radial spaces with heavy load and high-speed applications.
Tapered roller bearing
The last type of roller bearing is tapered roller bearing. This can support high radial loads and thrusts. They can only handle single-direction axial loads and in counter stay, another reversed bearing is needed. These bearings come in inches and metric sizes. This bearing is widely used in heavy equipment, power generation, automobile, and manufacturing machines.
How do roller bearings work?
The main functions of a roller bearing are to reduce friction and ensure the smooth running of applications. This comprises double rows with two rolling elements to support it. These rolling element bearings lie between the two cylindrical rings. These rolling elements play the most vital role of carrying the load and rotating in between the two rings.
Bearings play an essential role when it comes to the smooth operation of applications. The First main function of a roller bearing is to make the rotation of anything smoother by reducing friction. It is very common for friction to occur between the rotating shafts and the part that supports the rotation. This is where bearings come into play, and is placed between these two components.
The second most important function of a roller bearing is protecting the part which supports the rotation and maintaining alignment for the rotating shaft. During this part, the shaft rotates and supports the rotation. This process requires a lot of force and can only be prevented with the help of these bearings. As it protects the part from damage that is supporting the rotation, while also maintaining the position and alignment of the rotating shafts.
Where to buy roller bearings?
Bearings are used for multiple purposes and are widely available in different shapes and sizes. This is a heavy-duty material. It is made from ST14 steel, is durable, heat resistant, and can support high load capacity efficiently. However, it is best to use good quality bearings and repair old ones as soon as possible to avoid further damage to your applications. Are you wondering where to get them? Our factory Bushing MFG is the best place to purchase your bearings. We have 15years of experience in the bearings industry and offer high-quality items.
At Bushing MFG, we can guarantee that every bearing leaving our factory has high-quality performance. This is why you need to visit our website and receive these top-performing roller bearings for sale. If you are new to bearings and do not know where to start, our website is well equipped for that as well. We will guide you along the way and help you choose which bearing suits your needs. Our company provides support to help you choose the right bearing configuration as well. Bushing MFG has a dynamic variety of roller bearings, which include cylindrical roller bearing, needle roller bearing, tapered roller bearing, and spherical roller bearing. All these come in various shapes and sizes. Now that you know a little about our company we encourage you to visit our website and pick the right bearing for your day-to-day applications and make your life efficient and smooth.