For the past 15 years, Bushing MFG has provided the best flange bushings solutions to the world, When it comes to an all-rounder solution, Bearing MFG is your go-to shop. We work round the clock to provide you with top-notch bearings and bushing.
Bushing MFG has a qualified and experienced team of experts, quality controllers, technicians, and suppliers who put all the effort into fulfilling your demands.
Because of our low prices and effective after-sales services, Bushing MFG has become a well-known manufacturer globally.
We keep bringing innovations to our designs and materials. Bushing MFG knows the need of the time. For this reason, you may find updated solutions for all your problems, You can contact our customer service staff for more information and order placement.
Bushing MGF – Your Go-To flange Bushings Manufacturer in China
Bushing MFG is the most incredible option for friction-free bushings that are also low-maintenance.
The oil-free flange bush comes with various backing materials, including bronze, brass, and other iron-based materials.
Our R&D staff works day and night to create new materials and concepts. Similarly, Bushing MFG's quality control staff inspects the product from raw material collection through final packing.
Bushing MFG safeguards your investment by delivering free samples before finalizing your transaction. We value both your time and your money. As a result, you can get delivery right to your door.
You can present a personalized design to us. Our skilled and knowledgeable crew will build designs similar to yours but with a few differences.
Over 40 countries have received high-quality graphite bush from us. We make ordering more accessible for you by providing additional options. You can place large orders or small orders with a low minimum order quantity.
If you have any further questions, please contact us. Our customer service team is available to help you 24 hours a day, seven days a week.
Bushing MFG produces sliding plates, half-bearings, thrush washers, flanged bushes, and cylindrical bushes in a range of forms and shapes from graphite bushes. It can also create any customized form or size to satisfy the customer's requirements.
Following are some of the flange bushings that Bushing MFG offers.
Flanged brass bushings are widely used in manufacturing plants, construction machinery repair shops, and energy & mining industries.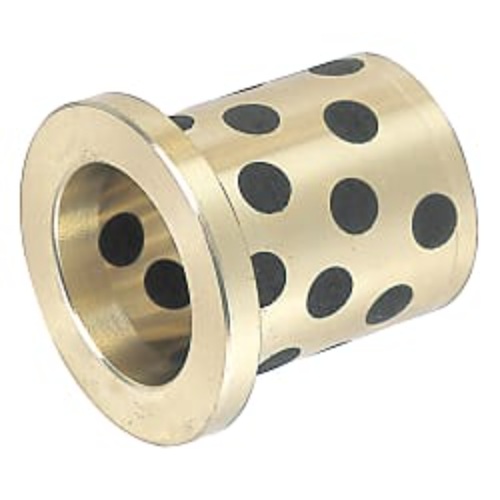 flanged bronze bushings apply to building material shops, machinery repair shops, retail, and construction companies, and much more.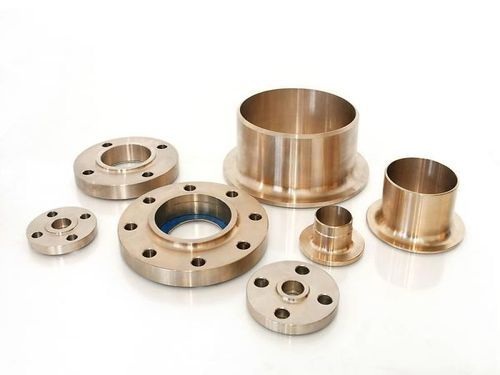 Flanged sleeve bearings are high load, low friction, and anti-wear bushings, these apply to manufacturing plants, machinery repair shops, retail, construction industries.
Oilless PTFE Lubricating Steel flange bushing
Steel flange bushing has lower friction, good anti-abrasion, and self-lubrication, They are applied in manufacturing plants, machinery repair shops, construction companies.
These plastic bushing with flange are used for pipe connections. like flanged nylon bushings and rubber bushings They are applied in the HVAC system/air conditioning ventilation system.
Customized Flange Bushings
You can customize your order of flange bushings. Whether it is about the sizes, material, or designs, Bushings MFG can create a unique bearing for you.
Flange Bushings – The Ultimate FAQs Guide
Flange bushings manufactured at Bushing MFG are used by every construction industry these days.
The distinct features of flange bushes have elevated them from the other bearings around them.
Flange bushings have excellent wear resistance and work for high loads.
This article will unravel the vital information that you need to know about flange bushings.
1. What Is Flange Bushing?
Flange bushings are also known as flange bearings.
self lube flange bushing is bronze sintered, oil-impregnated bushings with a load-bearing flange.
Flange bushings are utilized at lower speeds and with lighter stresses since the mating shaft can still travel freely within the bushing.
 Flange bearings contain a flange on one end that acts as a load-bearing surface for axial loads, similar to cylindrical sleeve bearings.
Agriculture, aerospace, and automobile applications, as well as appliances, machine tools, and hydraulics, all use flange bushings manufactured by Bushing MFG
Flange bearings allow the shaft assembly to glide within the bearing freely.
Sizes of flange bearings are available in both metric and imperial measurements.
It doesn't need to be greased or oiled regularly as it is self-lubricating.
Other components can use the flange as a load-bearing surface.
2. What Are Flange Bushings Used for?
A flange bushings manufactured at Bushing MFG is typically used to support a shaft that runs perpendicular to the mounting surface of the bearing.
When high speeds or heavy loads cause shaft flex, vibration, axial load, or movement, it can cause issues.
It can be made more accessible by using a flange bearing that is positioned to support the shaft.
They are made from several materials, including C95400 Aluminum Bronze, C93200 Bearing Bronze, and C86300 Manganese Bronze.
We manufacture your chosen Flange Bushings to your exact specifications.
Don't hesitate to get in touch with Bushing MFG to get an instant quote.
We also provide you with free product samples for satisfaction.
You can also get detailed videos regarding the uses of flanged bushings.
3. How Does a Flange Bushing Work?
Flanged bushings have one flanged end and are a form of sleeve bushing.
The flanged end radially stretches outward.
The flange acts as a thrust bearing surface, and one of its many functions could aid in the installation of the bushing.
You can find these bushings in a variety of commercial and industrial settings. They work better by rolling in the shaft rather than sliding.
They reduce friction and other damages to the application.
It self-lubricates during working and removes the manual aid.
Bushing MFG is a leading manufacturer and distributor of high-quality flange bushings in various sizes and requirements.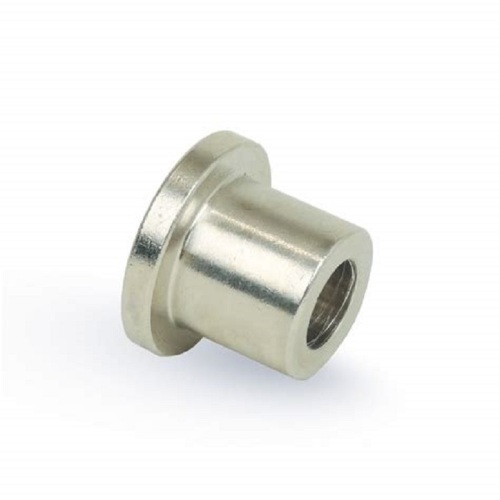 4. What Does a Flange Bushing Look Like?
A flanged bushing has just like the other bearings. It has a hoop or shoulder-like appearance over the standard bearing. It is called a flange.
This hoop or flange helps the flange bearing to fit into smaller locations.
Moreover, the flange also helps to replace or remove the bearing from the shaft.
5. How Can I Remove Flange Bushings?
The process of removing the flange bushes is delicate yet easy.
Let's say you are to remove the flange bushing from an airplane wheel.
When the edge of the tyre can touch the side of the yoke due to wear, you should replace a new set of bushings.
It is a relatively straightforward operation that may be completed using standard modeling software.
Cut a groove in the inside diameter of one of the bushings with a tiny saw-like tool. You don't have to do both sides.
It is recommended that you do not cut through to the aluminum wheel. What you're doing is releasing the tension in the bushing's press fit with the wheel.
Take any sharp thin knife blade and slide it under the flange after you've cut a groove most of the way through. 
With a twisting motion of the knife blade, you should be able to pop the bushing out at this point. Cut the groove a little deeper if the bushing doesn't pop out.
Find a drill, wood dowel, or anything else that has a flat end near the internal diameter of the hub with the bushing removed from one side. 
Fit your rod into the wheel center hole where you just removed the bushing and hold it against the inside flange of the remaining bushing with your rod as a punch. 
The second bushing will be driven out of the wheel by tapping the end of the 3/8 rod.
Remove the rough edges on the inside of the axle bore. You can do it with a fine round file or sandpaper on a dowel if you cut into the wheel in one go.
The new bushings should then be pressed into the wheel.
You can do it in a variety of methods.
Close the vise after making sure the bushing is aligned directly above the center hole in the wheel. You can also use a hammer to tap it in, but you'll need to put something between the bushing flange and the hammer. Do not pound the bushing flange directly.
6. What Are the Sizes of Flange Bearings?
Bushing MFG makes flange bushings that are available in a variety of forms and sizes.
 They support a wide range of applications and loads.
The diameter of the mounted shaft determines the bore diameter of the appropriate flange bearing.
The capacity required from a flange bearing is determined by the radial and thrust stresses applied to the bearing.
A conventional flange bearing will serve in certain circumstances, but heavier loads may necessitate a heavier-duty bearing.
You can explore the website of Bushing MFG for a comprehensive range of flange block bearings available for online ordering.
 Or request information for help finding the component you need. Our professional team will assist you.
7. What Are the Types of Flange Bushings?
Flange bushings come in a variety of types, depending on the housing style and bearing type.
The bolt pattern determines the housing style, which might be 2-bolt, 3-bolt, or 4-bolt housings.
Flange bushings, like pillow bearings, can include a variety of various types of insert bearings.
These insert bearings include roller bearings, needle bearings, and ball bearings.
Roller bearings have rollers in the inner and outer rings, which can be tapered, spherical, or cylindrical.
Needle roller bearings are identical to cylindrical roller bearings, except they are much smaller, and plain bearings slide rather than roll.
Ball bearing, which consists of many balls held in place by a cage within the inner and outer rings, is possibly the most well-known type of flange bearing.
There are four basic types of flanged bushings:
Plain flange bushing
Flange Bushings with Graphite Plugs
Oil / Grease Grooved Flange Bushings
wrapped bronze flange bushings
8. How Can I Customize My Flange Bushing?
You can call or visit your manufacturer to place your customized order for flange bushings.
For many years, bushings MFG has been the best maker of flange bushings. We have experienced bushing manufacturers who can provide you with the highest quality material.
To order customized flange bushings from Bushings MFG, you'll need to:
Select a material:
Bronze C93200 Bearing
Aluminum Bronze C95400
SAE 841 Sintered Bronze / Powdered Metal C86300 Manganese Bronze
Select a flange bushing style:
sleeve flange bushing
Plug graphite
Oil/grease groove
wrapped bronze
Select a bushing size:
Metrix
Imperial
Customized
And that's it for your personalization. Within a few days, we'll send you your requested order.
9. How Can I Measure Bushing with a Flange?
Sleeve bearings having a "flange" or "shoulder" on one end are flange bushings.
The flange has a variety of uses. It can help with bearing alignment and mounting.
It may also make bearing installation easier.
The flange bushings are made up of five separate pieces. The bushing's inner diameter (ID), outer diameter (OD), overall length (OAL), outer flange diameter (FLOD), and flange thickness are all measured in millimeters (FLTH).
To begin:
First, take the measurements of the ID
Next, determine the body's outside diameter.
In the aftermath of the OD, Measure the bushing's entire length, including the flange.
Next, select the flange's outer diameter.
Finally, choose the flange thickness.
This method will aid in the correct measurement of flange bushings.
Follow the measurement sequence of ID, OD, OAL, FLOD, and FLTH when submitting a request for a quote for flange bushing.
It ensures a prompt and accurate quote.
10. Where Can I Find the Best Flange Bushing Manufacturers?
Flange bushings have spread over the market in recent years.
Many industries have started manufacturing flange bushes. Thus, there are a lot of manufacturers around the world.
Flange bushings can fit into smaller products, and they have earned a name due to their distinct features and applications.
Bushing MFG is a leading manufacturer of flange bushings in China.
Bushing MFG has a massive capability for manufacturing flange bushings. Our professional team can make hundreds of flange bushings within a day.
We have an automated manufacturing method. Due to this facility, you can order at any time of the year.
For customer satisfaction, we also provide free product samples.
You will also receive images and videos of each product for better understanding.
11. What Are the Flange Bushing Market Prices?
The market price of flange bushes depends upon the area you buy them from.
For instance, it may be cheaper in industrial areas and can cost you the most when fewer flange bushes are produced.
Bushing MFG offers effective prices when you buy flange bushes in bulk.
You can get an early quote by directly contacting us at Bushing MFG.
The price of a single piece of flange bush is around 1 – 2 USD. However, it may vary when you buy it in large quantities.
12. Are Flange Bushings Self-Lubricating?
Flange bushes are both self-lubricating and non-lubricating.
However, Bushings MFG makes self-lubricating flange bearings, which means that you wouldn't have to spend extra money on buying grease and oil.
The self-lubricating bushings lubricate themselves while in function.
They do not acquire any extra greasing material for working or lubrication.
Flange bushings manufactured at Bushing MFG that self-lubricate are widely employed in a range of industries.
Everyone from power plants to buildings can benefit from increased bearing performance in industrial applications.
These bearings require frequent maintenance and replacement. It has a low operating cost and high performance.
13. What Are the Applications Of Flange Bushings?
Flange bushes are made of tempered steel alloys, which have high resistance against phosphorus corrosion.
Flange bushings are utilized in applications that need heavyweights to be moved at a moderate pace or light loads at a rapid speed.
They also have high resistance against different synthetic substances and gases.
Flange bushes manufactured at Bushings MFG apply to
Food business
Drug process ventures
Manufacturing industries
Construction companies
Wheels and machines
Manufacturing plants
Aerospace
Submarines
Energy and mining
Home Appliances for the Automotive
Lawn and Garden
Almost all industries are benefitted from flange bushes made at Bushings MFG.
14. What Are the Advantages of Flange Bushings?
The advantages of flange bearings produced at Bushing MFG are as follows.
Self-lubricating
Cost-effective
High resistance
Can bear heavy loads
Reduces friction
Damage and corrosion resistance
Long-period
Works at high speed
Easily replaceable
Can fit by pressing
Fits into smaller applications/products.
Bushing MFG not only manufacturers flange bushings but also has a wide range of other bearings.
These bearings or bushings include bronze bushings, graphite bearings, and polymer bearings.
Bushing MFG works at a fast pace and fulfills your order as soon as possible.
You can order your desired product at Bushing MFG.