SELF-ALIGNING BALL BEARING
Self-Aligning Ball Bearings are the swiftest and smoothest types of all rolling bearings. The smoothness of the Self-Aligning Ball Bearings facilitates the machine with the least possible friction and high-speed of working. There is no such heat production by Self-Aligning Ball Bearings while revolving at high speed. These bearings are the most suitable Ball Bearings for low to moderate amounts of loads.
Self-Aligning Ball Bearing is a children's category-bearing type of Ball Bearings. The working functionality of these bearings is similar to other types of Ball Bearings. They have a slightly different basic structure as they include two rows of balls as rolling elements rather than one.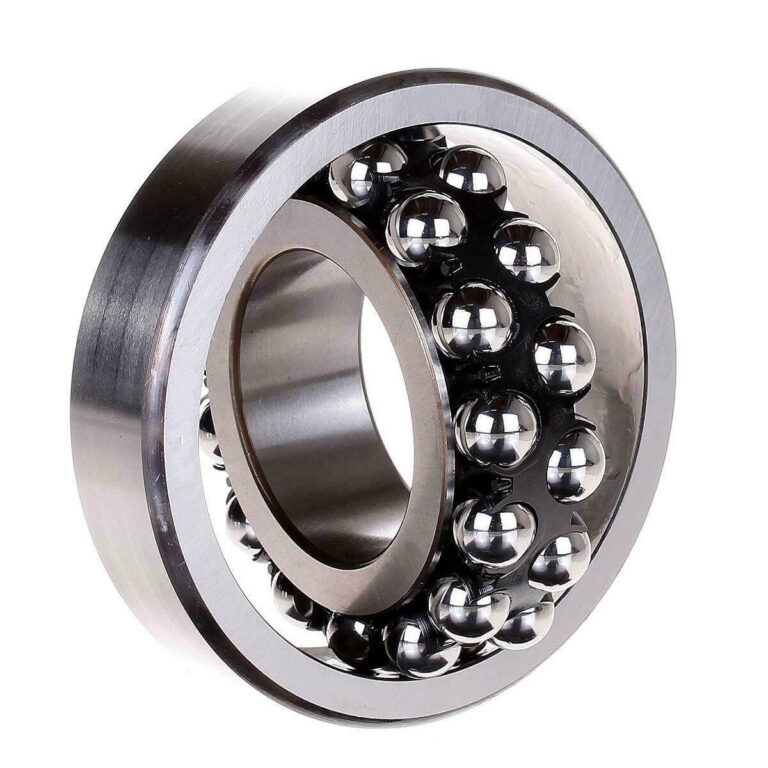 Self-Aligning Ball Bearing Metric Series:
| | | | | | | | | | | | |
| --- | --- | --- | --- | --- | --- | --- | --- | --- | --- | --- | --- |
| 1206 | 1310 | 2305 | 2201 | 2205 | 1318 | 1209 | 1213 | 2204 | 1306 | 2210 | 2215 |
| 2309 | 1305 | 2201 | 2202 | date | date | date | date | date | date | date | date |
What You Want to Know about Self-Aligning Ball Bearing
Bushing MFG is a ball bearing manufacturer since 2006 in China, we are a reliable supplier of high-quality ball bearing products with competitive prices, overall million pieces standard sizes stock for directly buying, and a rich experience for designing your special need.
What is Self-Aligning Ball Bearing?
Self-Aligning Ball Bearing is a rolling bearing used to reduce the rate of friction in any machine to the least possible rate. This bearing helps machinery to process at a very high speed. That means higher working efficiency of machinery. These bearings are available in Tapered Bore, Open and Sealed conditions.
Self-Aligning Ball Bearing consists of two rings. An inner ring comprises 2 raceways rings and an outer ring that comprises only a spherical raceway ring. The spherical raceway also has a center of curvature that coincides with the bearing axis. This allows the axis of the alignment of the inner ring, cage, and balls to turn Self-Aligning Ball Bearing to accurate the angular misalignment automatically. The cause of this angular misalignment IN shaft and housing machining or installation inaccuracies.
Application of Self-Aligning Ball Bearing
Focusing on the working functionality of the Self-Aligning Ball Bearing. These bearings are beneficial in textile, heavy and power machinery, agricultural purposes. These bearings are used in staple machines for magazines and luggage conveyor systems at airports and other traveling stations.
Due to the smooth performance of Self-Aligning Ball Bearings, these bearings are used to process pumps for refineries and power plants. In the agriculture field, this bearing is used in farms for making shredders efficient for cutting fruits and vegetables. They are installed in the ring-spinning machines used for yarn production.
In the textile industry, Self-Aligning Ball Bearings are used to make twisting machines more efficient for thread production. In industries, they are used in large fans to revolve them smoothly with high speed. These bearings are also found in Cereal mills.
How does Self Aligning Ball Bearing work?
The structure of a Self-Aligning Ball Bearing is based on two raceways. One is the outer spherical raceway. That causes shaft deflection, misalignment, and housing deformations, making the bearing work in possible problematic applications.
This bearing process with very high speed and provides less friction than other styles of bearings. The best quality of this bearing is that it works at high speed without producing much heat amount. That is the reason Self-Aligning Ball Bearings are more efficient to work with small-to-normal-sized loads.
Advantages and Disadvantages of Self-Aligning Ball Bearings
The working functionality and structure of the Self-Aligning Ball Bearing show that it is a very beneficial and proper type of bearing. It can be used as a friction-reducing gadget in machinery to improve the working efficiency of the machines. But it also has some drawbacks that can make it an improper bearing to use in different machinery.

ADVANTAGES:

Following are the advantages of a Self-Alignment Ball Bearing:

This bearing improves the working motion of the machines.
It boosts up the moving speed of the surfaces and machines.
The major benefit or feature of the bearing is that it accommodates angular misalignment.
It provides low friction and low heat generation. 
There is no need to use lubricants for the bearing.
Do not make loud noises and irritating vibrations.


DISADVANTAGES:

The only drawback of the Self-Align Ball Bearing is that the load rating of the bearing is limited.
For more information you want to know about Self-Aligning Ball Bearing, Feel free to contact our sales team today for the updated catalogue PDF or size chart, We will reply within 12 hours.